Author:

Manuel Lemos



Viewers: 239

Last month viewers: 2

Categories: PHP Innovation Award


O'Reilly is well known company that has been working for decades in education its audience in subject related with technology in general and programming in specific.
What as Been O'Reilly Contribution to the PHP Community Progress?
O'Reilly is a company that has been supporting many Open Source software communities since many years ago.
I remember to have access to O'Reilly books since I was a student of Electronics and Telecommunications Engineering back in the 1990's in Universidade de Aveiro in Portugal.
The time passed and O'Reilly also supported publishing books about PHP and related technologies.
In 2001 I attended OSCON 2001 in San Diego, California as a speaker to talk about MetaL, a meta-programming language that I use until today as the base of MetaStorage, as ORM code generation tool that is responsible to generate more than 50% of the PHP code that runs the PHP Classes site.
Although I spoke in a track about XML, I have had the chance to meet in person well-known PHP personalities such as the creator Rasmus Lerdord, Andi Gutmans, Zeev Suraski among several others.
I also had the pleasure to meet Marsee Henon that works at O'Reilly until today and always supported my efforts to help me as a speaker at OSCON and the PHP Classes site later when we started the PHP Innovation Award in 2004. We should all be grateful for the support of Marsee, Tim O'Reilly the well known founder of O'Reilly, as well all other employees that helped us in this journey of supporting PHP and other Open Source comunities of software products that we depend like Linux, Apache, MySQL and many others that you all know.
New Improved Prize from O'Reilly
This post is basically to announce that O'Reilly is providing a prize for the innovation winners and nominees that is even better than before.
Before they provided a e-book of choice from a list of books of interest for PHP developers.
Now they are providing access to their Safari Online Learning platform. Even though it is not specific for PHP developers, it is an interesting platform that you should take a look to see what it provides by going here.
PHP Innovation Award winners that pick the O'Reilly platform as prize will have free access to the platform for one month. This will provide each winner a good time to access the available learning resources.
As for you PHP developer that is interesting to earn this prize or the others that are available, keep sending great innovative packages like many hundreds of PHP developers, so you can be entitled to receive these nice prizes.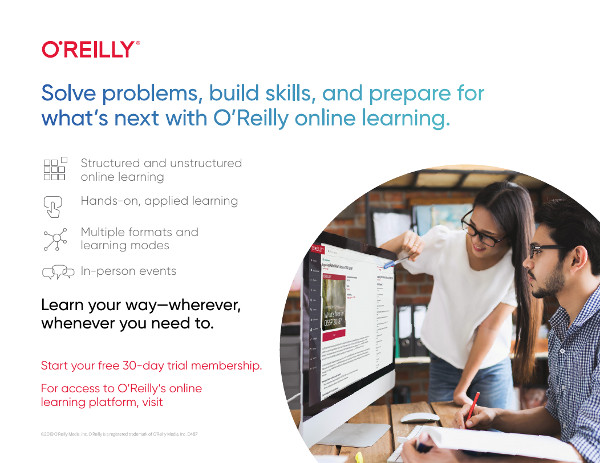 You need to be a registered user or login to post a comment
1,611,062 PHP developers registered to the PHP Classes site.
Be One of Us!
Login Immediately with your account on:
Comments:
No comments were submitted yet.