Author:

Manuel Lemos



Viewers: 2,364

Last month viewers: 2

Categories: PHP Tutorials, Lately in PHP Podcast, Software Business


Many developers are not happy with working for other companies. They do not have much autonomy to work on projects they want, they cannot work from home, they cannot work any time they want, and in the end they get paid a limited amount of money.

The alternative for these unhappy developers is to create their own software products and sell them to many customers. Unfortunately many developers do not know how to get started and become successful.

The good news is that this is the first of series of short videos that will teach developers all they need to know to create their own businesses developing products that the customers really want and will pay for.

Watch this short video to learn about why creating your own products is the right step to be a happier developer, as well how you can attend a free online workshop that will teach the essential steps to achieve that goal.
Watch the video below
In the video below you will learn about why you can evolve your career of developer by working in your own company developing your own software products and selling to many customers, instead of working for others for a limited amount of money.
You can also learn about a free workshop that will be announced soon, so you can learn the essential matters regarding establishing as a successful software business company.
Make sure you signup to be notified when the workshop is launched, as well when new follow-up videos are published.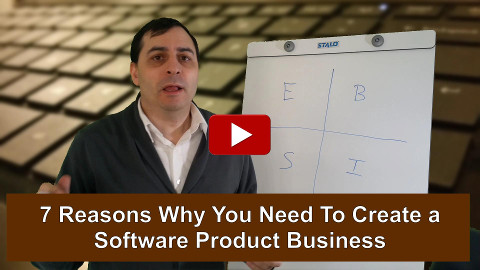 You need to be a registered user or login to post a comment
1,611,062 PHP developers registered to the PHP Classes site.
Be One of Us!
Login Immediately with your account on:
Comments:
1. where do I signup to be notify? - OSWALDO OLEA (2016-06-20 16:48)
great, I want to follow but where do I signup to be notify?....... - 1 reply
Read the whole comment and replies
2. Fantastic - B T (2016-06-20 16:46)
I truly love your website.... - 1 reply
Read the whole comment and replies