Author:

Manuel Lemos



Viewers: 1,047

Last month viewers: 1

Categories: PHP Tutorials, Sponsored


Evolving in your career as software developer often means seeking a better job than you have now.

Read this article to learn about 3 important tips that will help you in the journey to get the coding job you want.
Contents
Introduction
Tip #1 – Be transparent
Tip #2 – Be upfront
Tip #3 – Remember Your Priorities
The Key to Success: Start Optimizing Before the Final Negotiation
Introduction
Finding a job is a lot like dating. When a candidate first meets with a company, it's assumed that you're not exclusive. If you happen to be a top engineer as well, you're probably also fielding multiple offers from different companies simultaneously.
Recruiters and employers have plenty of experience with this scenario, yet many job seekers pretend to court one company exclusively. To preserve the illusion, we've seen candidates go to great lengths to conceal the fact they're interviewing at multiple places at the same time-and that's a big mistake.
Why?
To put it simply: It's good to be in demand. There's no shame in it! Revealing other potential career opportunities to employers is a smart and sanity-saving way to handle your interview process. Do it right and you could end up with a strong offer from a company you love.
Here are a few factors to keep in mind.

Tip #1 – Be transparent
Many job-seekers believe the key to getting what they want involves stealth activity: Never show enthusiasm, don't let employers know you're interviewing elsewhere, and so on.
A lot of this behavior stems from the idea that you must preserve any advantage before the negotiation phase. That's reasonable, but in many cases, being transparent in the right way is much more helpful.
For example, as an in-demand job seeker, it makes sense to share that other companies are pursuing you. This may accelerate an offer from the company you really want to work for, putting you in a much better position than if you remained silent. Here's how you might communicate this to a potential employer in real life, via email:
Hey Mark,
Thanks for the chat the other day. I wanted to let you know another company is bringing me on-site tomorrow. I'm not sure if this is a final round but Company A is definitely a top choice. Would love to visit your team soon to make sure I can make the best decision possible.
Thanks!
This message conveys just the right amount of transparency without giving up important information. Remember, you don't need to expose who else you're talking to; just let them know where you are with other interviews.
Tip #2 – Be upfront
At Hired, we provide a starting point for salary for every role, upfront. We do this because we want you to get non-binding salary information and insight into the role that'll help you figure out if it's worth pursuing or not.
As you get deeper into this process, you'll hear numbers thrown around by both Hired and potential employers. Pay attention to them because you'll get a good sense of market value for your particular role as well as the landscape as a whole. Use this insight to your advantage when communicating.
An easy way to leverage this kind of info? If a company is significantly below market value on an offer, it's wise to let them know. If your top choice is $20k less than your third choice, it's fair to ask about this after an interview or prior to an on-site. A quick email can help affirm your interest while setting the stage for an easy negotiation:
Hey Mark,
Really enjoyed talking to the team yesterday. Not only is this a great product but an exciting group to be a part of. Company A seems to be loaded with potential.
I just wanted to give you a heads up about some other interviews. Company A is very high on my list but I'm receiving a range of interest. It seems a few other companies are a bit higher on comp though. Certainly not a deal breaker but hopefully it's something we can work through. At the right time, I'd love to chat more about this but just wanted to give you a heads up.
It's good to be strategic, but part of getting the offer you really want means employing that strategic mindset much earlier on than final negotiations. Also, exercise caution. If a company thinks you're just pulling an offer out of nowhere, they might play hardball assuming it's just a negotiation tactic or to get more money.
The truth is, good companies want you to work for them because they're your top choice, not because they're the highest offer. Letting them know in a tactful way that you're talking with other companies not only moves the process forward, but allows you to leverage multiple paper offers without seeming salary hungry.
Tip #3 – Remember Your Priorities
With multiple companies and offers, even the most clear-thinking among us can get confused about making the right decision. Keep everything straight by outlining your goals at the outset of the job hunt.
Refer to them often throughout the process and remind yourself why you started this process in the first place. Move your priority interviews forward in correlation with one another, so when you do have an offer, your top choices are ready to present a final offer as well. Be sure your top choices are aware of your timeline for accepting and let them know if they're moving slower than others (totally fair to do this).
Here's the really important part–the one where the choice really is yours. If you don't care about the extra $20k early on, no worries. Save this for when you get a verbal offer and negotiate with this information then.
If $20k makes a significant difference and the other company gave you a verbal offer, you can have this conversation before an on-site. If they can't get you any more salary, ask them if they can they get creative with their offer. What else can they offer you to make it worthwhile? Get the options on the table and go forward with what's best for you.
The Key to Success: Start Optimizing Before the Final Negotiation
When it comes to finding the right job, there's no reason why you should play it close to the vest just for the sake of doing so. As we mentioned earlier, there's no shame in being in-demand. If you commit to being transparent, upfront, and mindful of your priorities early on, you'll set yourself up for success.
Combine that with effective communication–not revealing too much, or too little–and you'll put yourself in the best spot for not only getting the best compensation, but the job with the best fit for you and your skill set.
Ready to get multiple offers? Hired can help.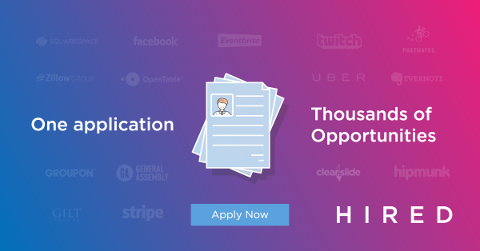 You need to be a registered user or login to post a comment
Login Immediately with your account on:
Comments:
1. nice writeup - Josh Jimie (2016-05-16 18:37)
very inspiring... - 1 reply
Read the whole comment and replies